Home automation enthusiasts were treated to a bevy of delightful surprises at the Consumer Electronics Show last month in Las Vegas. And with the gadgets, systems, and artificial intelligence that's been coming out, there's plenty to be enthusiastic over.
As it turns out, the Internet of Things (or, IoT, as it has come to be known) has really catapulted over the last few years, surpassing expectations both in terms of innovation and connectivity.
You're probably familiar with the IoT, even if it sounds like a new term. Much like the internet of computers, the internet of things is all about communication – only instead of personal computers talking to each other, it's things.
Take the Fitbit, for instance. While the Fitbit itself is worn on the wrist, users mostly interact with it through an app on their iPhone or Android. The Fitbit measures your physical activity, distance, location, and heart rate, and sends the information over to your mobile device for you to use.
People are increasingly able to control more and more things from their mobile devices thanks to the IoT. Today people are able to control their thermostat or home security systems – and even the automobile has joined the IoT, with connectivity enabling real-time traffic and parking updates, GPS location services, and more.
What's interesting is that as of late, Apple, Google, and Amazon have all introduced competing platforms compatible with an array of home automation products, enabling them to communicate with each other in a standard format. Think of it as a housekeeper running a staff – only instead of cooks, maids, and butlers, the platform communicates with your refrigerator, oven, or garbage disposal.
Logically enough, retail giant Amazon's Alexa platform has taken the lead, offering compatibility with countless products available on the website. So, what are these home automation devices and what do they do? Here are a few of our favorite picks from CES 2017.
Amazon Echo / Lenovo Smart Assistant
These hubs are the main communication point between the user and the home. You can give commands to Alexa via the Echo or Smart Assistant, adjusting settings on a variety of household implements, or streaming music.
They also answer questions in real-time, providing sports scores, news, weather, and more. You can also tell Alexa what you're looking for and she will order it for you from the Amazon website. Alexa not only makes shopping easier, but she can order you a Domino's Pizza as well!
As corny as it might sound, one of the most exciting developments at CES was the robot assistant. While there were several offerings all aimed at providing niche services, Kuri really stood out, though his main function seems to be just to provide good company.
Kuri is able to move about independently and is capable of facial and audio recognition. It's able to display a range of emotions through meaningful beeps and surprisingly expressive facial movements. Kuri is also able to stream and play music, as well as read stories. It's able to do this by connecting to your home entertainment hub, and can even alert your mobile phone if anything seems amiss.
This amazing doorbell is so much more than just a buzzer. A tiny camera allows users to record HD video or take a still photo of their front doors, remotely. Video is saved to the cloud and available later, for free.
In addition, you can turn off the chime so people don't inadvertently wake sleeping children or disturb quiet time. Expecting a package? Turn that sucker right back on. All of this is accessible through a mobile device and Alexa, also accessible via your phone.
While this isn't limited to one product, Whirlpool has announced that early this year it will be releasing a line of Alexa-compatible appliances such as washers, dryers, ovens, and refrigerators, all able to communicate with the platform.
Folks will be able to start a load of laundry remotely, find out how much time is left, or even turn their washer or dryer to quiet mode. Likewise, they'll be able to change the temperature or turn on or off their ovens, and even adjust their refrigerators – all through the touch of a button or voice command.
The Rundown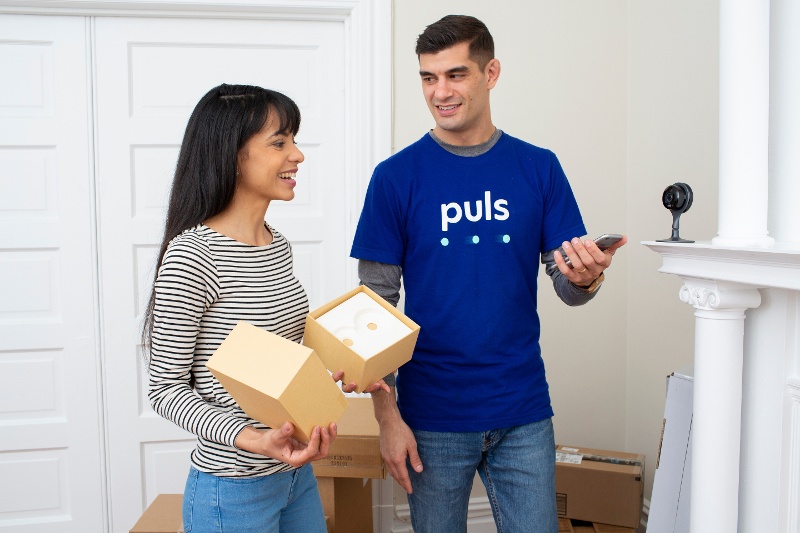 From dishwashers to televisions to lighting, home automation is taking off in a big way, and CES was a spectacular reveal as to what's in store this year.
With Puls, we can get your smart home up and running. We are an official Google Home partner, offering free in-home demo and setup. You can view all of our other smart home related posts here and here. Or check out our smart home service today.